Your Runway To Digital Transformation
Accelerate your digital transformation with the right team. We help you to make the right decisions across your cloud adaption and digital transformation journey and establish the optimal cloud operating model for your organization.
Every member in eCloudChain is composed of an innovative-mindset and expertise ranging from consulting, technical and operational excellence. 
We believe in building long-term trust with our customers and help them successfully achieve their mission.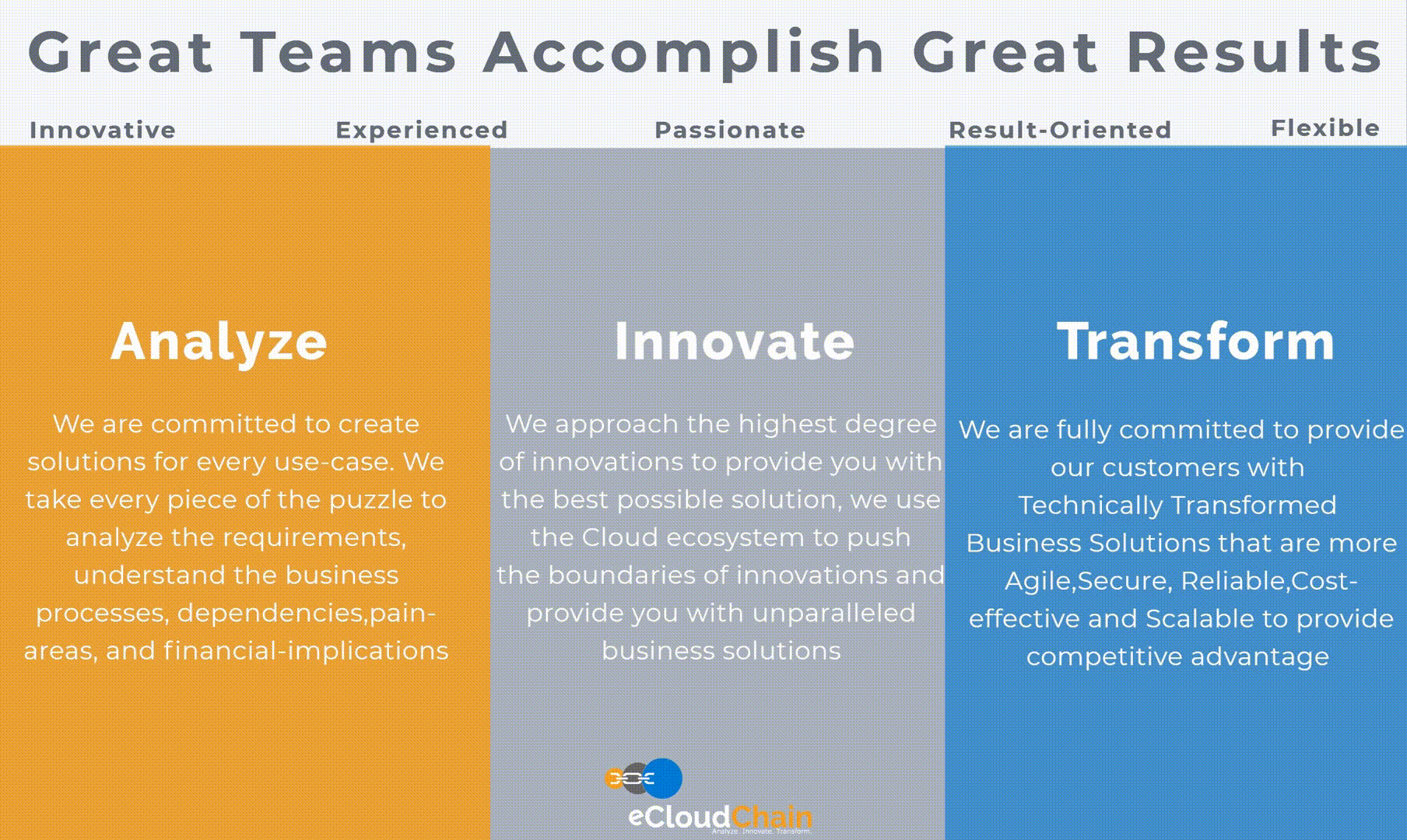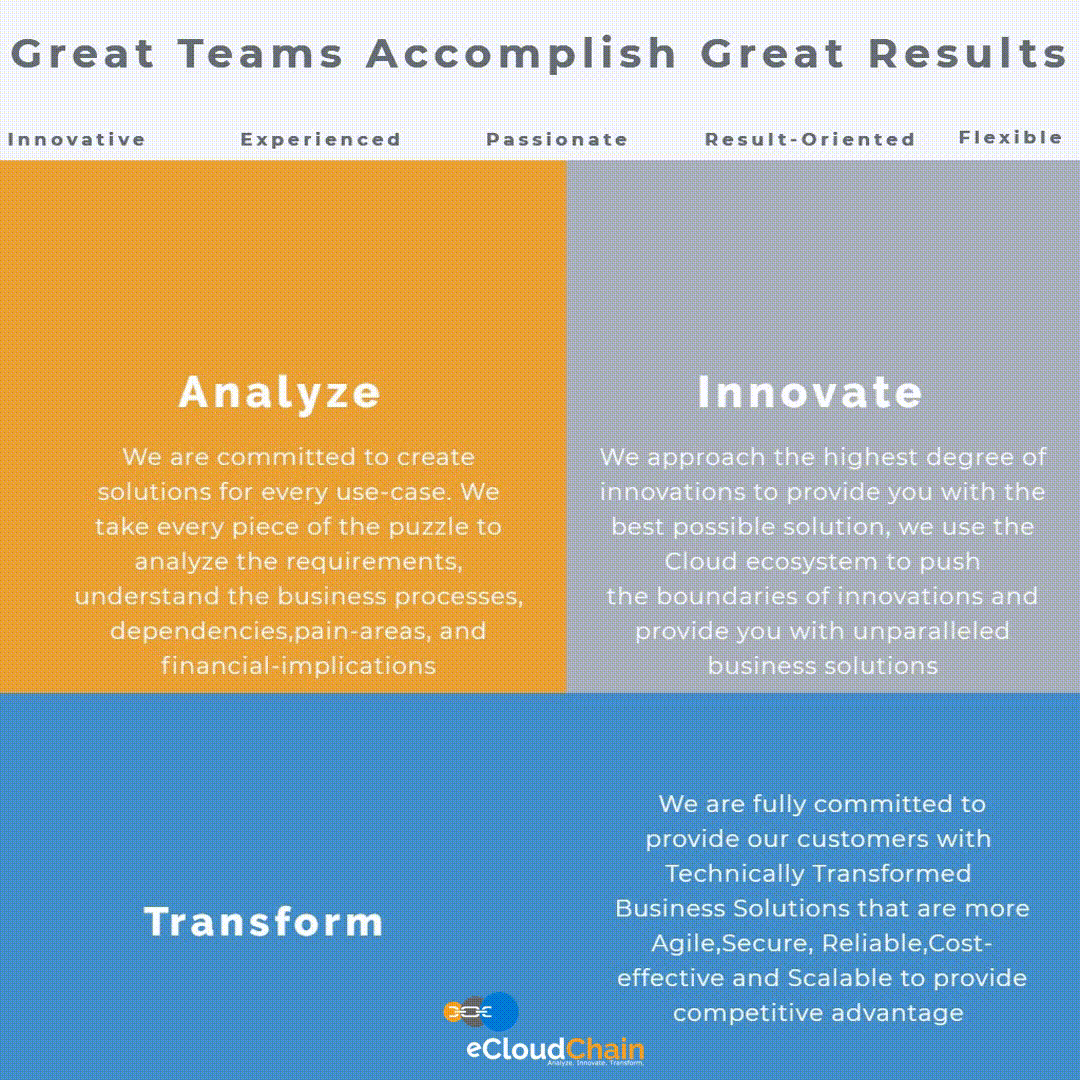 We Help You Build Next-Generation IT Capabilities
Technical Skills Are Not Enough For Successful Cloud Adaption
We provide the entire gamut of Cloud and Digital Transformation services including Cloud Managed Services (MSP), Cloud Migration, Native Cloud Development, DevOps, Infrastructure Automation, and Advance Data-Analytics services. 
We build strategic partnerships with our enterprise customers to transform their businesses by providing cutting edge cloud computing services including premier consulting and technical advisories.
Our commitment is to provide agile, scalable, reliable, secure, and low-cost digital solutions to our customers and empower them to accelerate, innovate, and focus on their core business.
Empower Your Business with Our Innovation Approach
Our Cloud Services Offerings
Our Cloud Service offering includes Cloud Consulting, Cloud MSP, Cloud Migration, DevOps, Advance Analytics, Machine Learning, IoT & AI.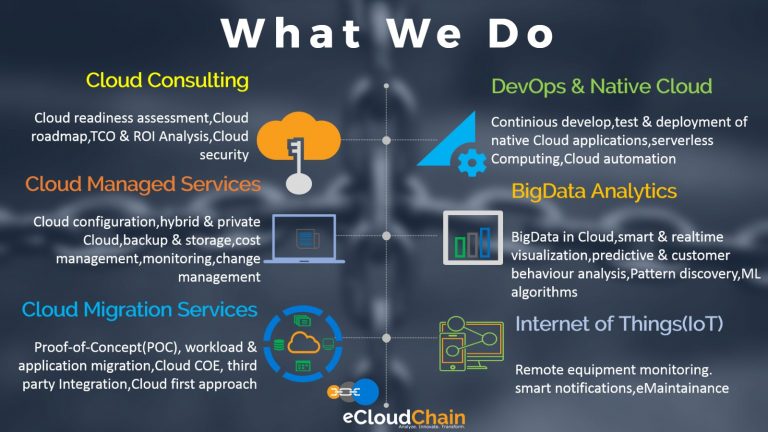 Multi Thronged Approach For Successful Cloud Adaption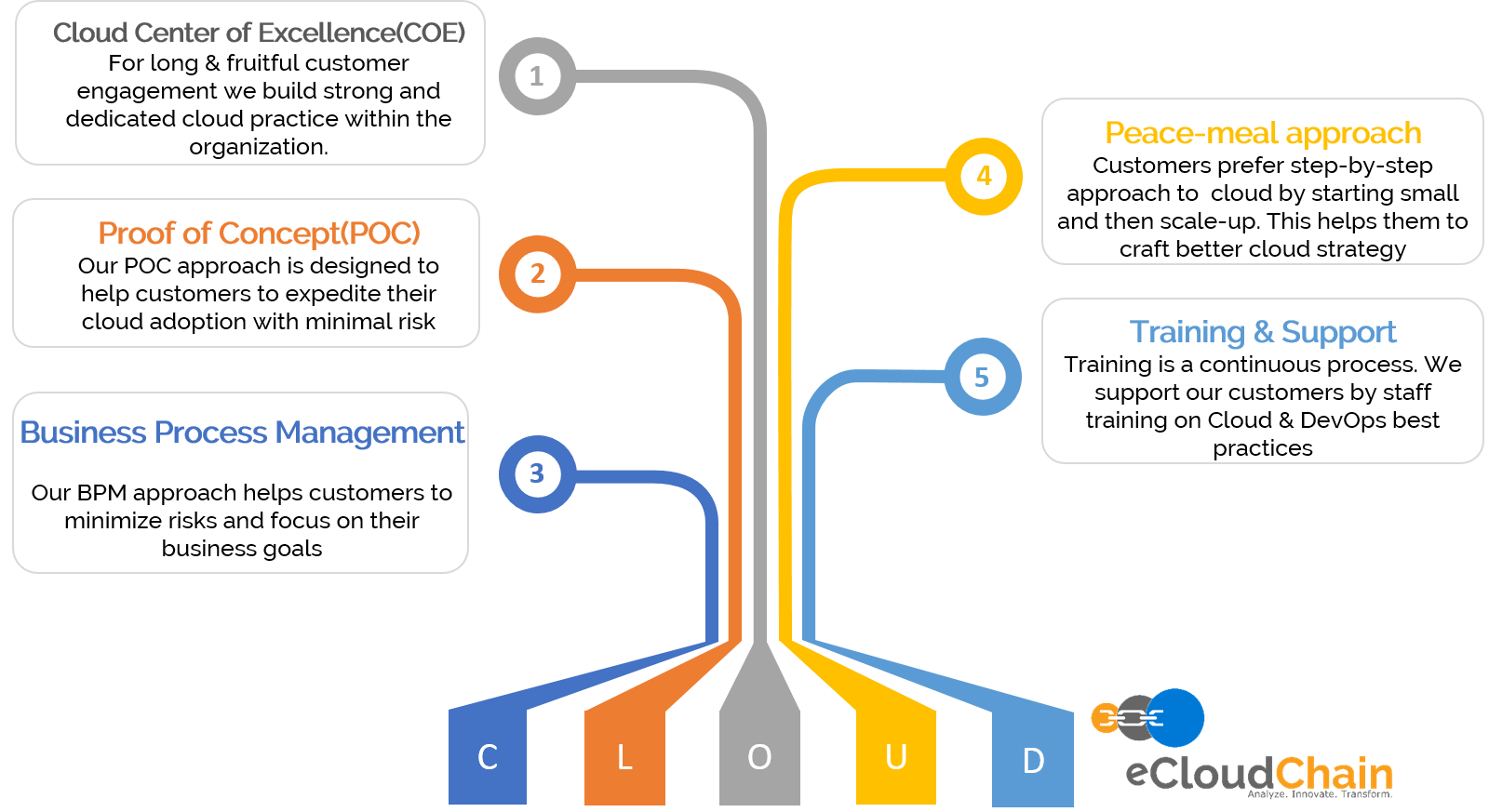 Create your Multi-Cloud Strategy
 Your organization needs a detailed workload requirement analysis based on factors like pricing, performance, services & tools, reliability, and industry experiences to define your Multi-Cloud strategy.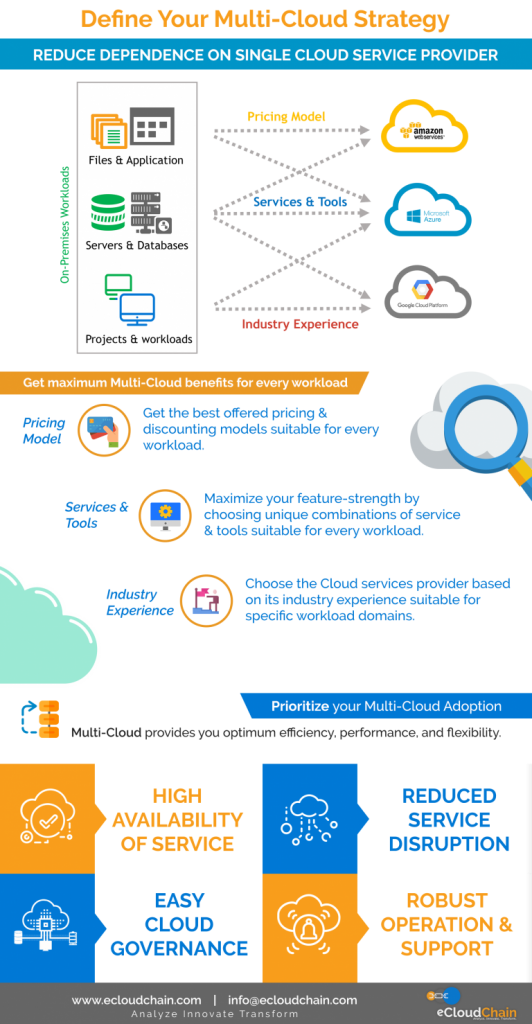 PRICING
Each cloud-service-providers has different pricing models offered for different services. By comparing the TCO analysis for the required cloud services, your organization can plan multi-cloud-strategy on the best pricing models offered.
SERVICES & TOOLS
Multi-Cloud strategy allows you to leverage the best feature-strength from cloud-service-providers. Based on the business objectives and workload needs, services & tools from different cloud service providers are combined to offer the most-optimum value to your organization.
INDUSTRY EXPERIENCES
An important parameter of a well-architected Multi-cloud infrastructure design is also the Industry experience of the certain cloud service provider. For example, a typical core telecom workload(like billing & charging) can be best suited for one cloud-platform, while at the same time rest of the workloads (CRM, ERP or Data-warehouse) can be best suited for another cloud-platform.
Build a Strong Foundation For Your Transformation Journey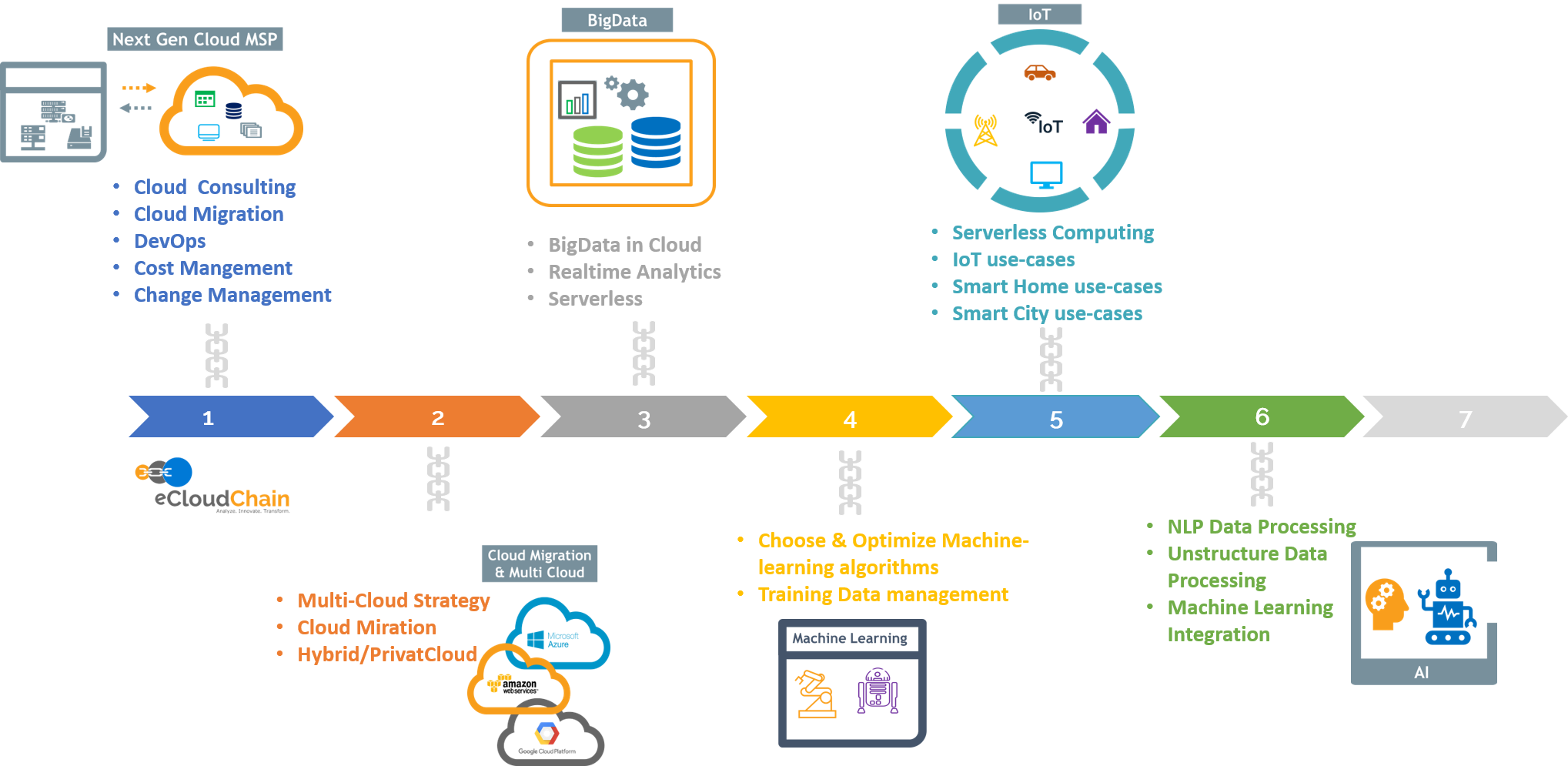 Our Cloud Integration Services Include AWS, Google, Microsoft, And Other Leading Cloud Platforms.